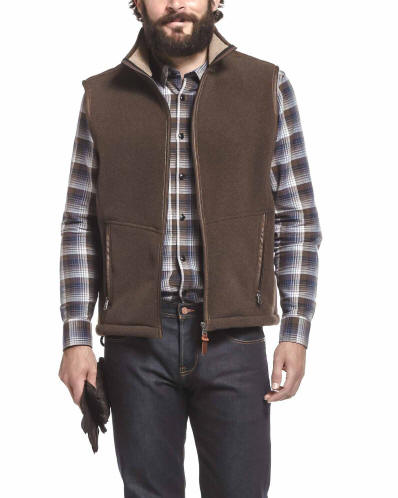 Aigle Mens Shepper
Fleece Waistcoat - Brun - NEW
The mens Aigle Shepper fleece gilet, is a high quality gilet, made from a Polartech material, which is designed to keep the body's heat in and the cold out.
This is one of Aigles core products which is timeless and stylish for use outdoors and socially acceptable indoors.
It has been designed to have a tailored fit, once on, hard to remove, great for all months throgh the year on different occasions, Aigle is very proud of the Aigle Shepper fleece, which looks great with a shirt or over a jumper and a shirt depending on the weather, an essential part of any mans wardrobe.
The Polartec© fleece jacket.
The classic sleeveless Polartec© fleece bodywarmer.
Timeless style with a more tailored fit for a modern style.
The faux leather details, such as the wide panel on the shoulders, give it character and authenticity.
Details: leather pull tab, inside pocket on the left-hand side when worn, draw cord, leather Aigle badge on the back, cotton feel cord and finish.
£130.00 - £110.00
USE CODE REDRAEORDER IN THE SHOPPING BASKET TO RECEIVE YOUR 10% OFF
PAY NOW £99.00
- Free U.K & Worldwide Delivery
- 28 Days Return Policy
- Next Day Delivery
(Price Includes VAT & P + P)
Size: S/XXL